4 REASONS TO CHOOSE TOYOTA GENUINE ACCESSORIES
4 REASONS TO CHOOSE TOYOTA GENUINE ACCESSORIES
Posted on January 30, 2023
Toyota Drivers know that details make the difference, details like using Toyota Genuine Accessories allow you to customize every detail of your vehicle. Here are 4 reasons Toyota Genuine Accessories are the best choice when your vehicle needs a replacement or an upgrade!
1. Toyota accessories are designed to integrate seamlessly with your Toyota's existing systems.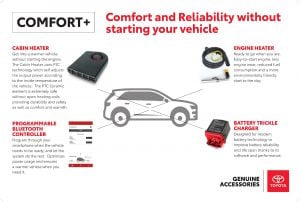 Toyota Comfort + Accessories are a line of heating accessories designed to help Canadians get through the long winter season. Working seamlessly on both gas & hybrid powered vehicles, the block heater, cabin warmer, trickle charger & Toyota Comfort + App are user friendly and more importantly, are essential for getting through the cold winter months.
2. Rigorous testing ensures maximum dependability & function.
3. Installed by Factory-Trained Technicians who have installed these accessories countless times.
Our factory-trained Toyota Technicians receive over 200 hours of training and follow the factory-recommended maintenance menu to professionally maintain your vehicle and protect your investment. We built your Toyota, so we use only Genuine Toyota Parts and use specialized tools to keep it running like the day you bought it. There is no better place to take your Toyota for service than your Toyota dealership.
4. Accessories & parts purchased & installed at a Toyota Dealership come with a 2-year parts & labour warranty.
LEARN MORE ABOUT TOYOTA GENUINE PARTS & ACCESSORIES