Toyota Genuine Accessories

Toyota's rich racing history is the inspiration behind the TRD line of accessories and performance products. When added to your Toyota they enhance performance, handling and style.
TRD Accessories
TRD PERFORMANCE AIR INTAKE
Learn More!
Feed your engine some cooler air with the TRD Cold Air Intake! System intake is located in the passenger side front fender well to supply the engine with cooler, denser air rather than hot air from the engine compartment.
TRD PERFORMANCE DUAL EXHAUST
Learn More!
Hear your engine roar with style. The TRD exhaust gives your engine greater power while bellowing out a deep, throaty tone.
TRD PERFORMANCE AIR FILTER
Learn More!
For optimal engine protection and performance, the TRD Performance Air Filter offers superb filtration and enhanced airflow. Four-ply filter element features a durable, epoxy-coated mesh enclosure and elastomeric seal to help optimize a precise, leak free fit.
TRD SHIFT KNOB
Learn More!
Enhance your connection to your Tacoma every time you shift with the TRD Shift Knob. Delivers an enhanced shifting feel while providing an impressive addition to your interior.
Truck Accessories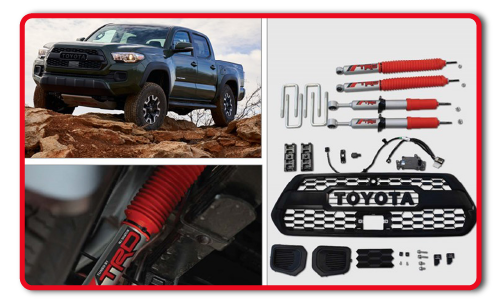 TRD LIFT KIT
Learn More!
Add rugged style and tackle tough terrain with the Tacoma TRD Lift Kit. Designed and tested by TRD engineers, it's the only lift kit validated to be compatible with the Toyota Safety Sense (TSS) system on the market. At the heart of the kit are new monotube Bilstein shocks that provide improved on-and off-road vehicle dynamics. Kit includes: 2" front lift and 1" rear lift, silver and redo-branded TRD Bilstein shocks, Heritage TOYOTA front grille and millimeter-wave sensor designed to precisely fit within the grille to retain the functionality of the TSS system.
RUNNING BOARDS
Learn More!
Go that extra step. Not only do running boards assist in entering a vehicle, they also help protect the lower body from road debris. Constructed with high quality material, they feature a wide-step surface with a plastic step pad. The custom engineering ensures a perfect fit and easy installation.
SIDE STEP BARS
Learn More!
Gain easy access into your Tacoma while enhancing the exterior appearance. These durable and robust Side Step Bars feature dual-moulded, skid-resistant step pads and come in a brilliant chrome finish. Not only does the chrome finish look great, it also provides protection against the elements.
SOFT TRI-FOLD TONNEAU COVER
Learn More!
Designed and engineered specifically for your Tacoma or Tundra, this low-profile soft tonneau cover is made from lightweight aluminum and from the highest-grade vinyl available in the industry. And it's been extensively tested for superior UV resistance.
Enjoy a quick and easy start every time with help from Toyota COMFORT+ Accessories. From pre-warming your cabin in the cold winter months to keeping your battery fully charged, COMFORT+ Accessories ensure you're always ready to go, no matter the temperature.
COMFORT+ Accessories
BATTERY TRICKLE CHARGER
Learn More!
Keep your battery optimally charged even when you're parked for extended periods of time.
CABIN WARMER
Learn More!
For ultimate comfort, enjoy a warm cabin right from the start - no idling required.
MOBILE APP
Learn More!
Set your vehicle's temperature and monitor battery status with your smartphone. Bluetooth Hub required.
ENGINE BLOCK HEATER
Learn More!
Pair the COMFORT+ suite with a Block heater to keep your engine warm for a smoother start.
Featured Accessories
TOYOTA GENUINE DASH CAMERA
Learn More!
When your vehicle's ignition is turned on, the Dash Camera starts recording video, audio (if the microphone is turned on) and location data. It has specialized video event recording modes to capture and protect important videos, and footage can be reviewed and saved to your smartphone or computer with the free app or accompanying software.
TOYOTA GENUINE TOWING HITCH
Learn More!
Toyota Genuine Towing Hitch system is specifically designed and manufactured for your vehicle model, and has been engineered to obtain the vehicle's safest maximum tow rating.
TOYOTA START+
Learn More!
Toyota START+ is a Toyota Genuine long range remote engine starter that allows you to start your Toyota from as far as 800 metres or 2,600 feet away.
TOYOTA GENUINE ALLOY WHEELS
Learn More!
Lightweight for enhanced fuel economy, and designed for outstanding braking performance, Toyota Genuine Alloy Wheels also undergo extensive factory and track-testing to ensure they meet Toyota's rigorous standards for quality, reliability and durability. All while elevating your Toyota's stylish exterior.